Instructions: Download files and folder structure. Unpack folder structure. Individual files (ending in TAR. GZ (do not unpack) into the SyncMyRide folder). Then copy everything to a USB stick.
Depending on which SYNC version you have installed, you may need to the autoinstall.lst can be adjusted. The version installed with you must be stored in this version. Simply open with Text Editor and customize the version accordingly. This is the following line [SYNCGen3.0_3.4.19200_PRODUCT]
The USB drive needs to look like this (here in the example with only one file)
Everything as always at your own risk.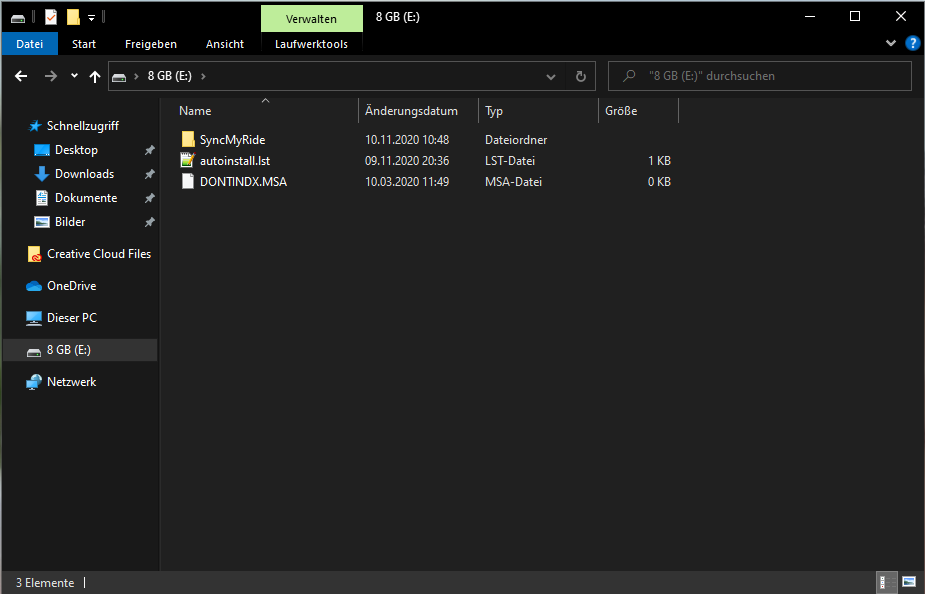 F8
If the download should not start – right mouse button and select "Save as…"
Map EU Common: http://ivsu.binaries.ford.com/swparts/1 … 000.TAR. G
Map EU ext: http://ivsu.binaries.ford.com/swparts/1 … 000.TAR. G
Map EU North UK: http://ivsu.binaries.ford.com/swparts/1 … 000.TAR. G
Map EU Iberia: http://ivsu.binaries.ford.com/swparts/1 … 000.TAR. G
Map EU France: http://ivsu.binaries.ford.com/swparts/1 … 000.TAR. G
Map EU Central: http://ivsu.binaries.ford.com/swparts/1 … 000.TAR. G
Map EU South: http://ivsu.binaries.ford.com/swparts/1 … 000.TAR. G
Map EU East: http://ivsu.binaries.ford.com/swparts/1 … 000.TAR. G
Map EU Cyprus: http://ivsu.binaries.ford.com/swparts/1 … 000.TAR. G
License: http://ivsu.binaries.ford.com/swparts/1 … 000.TAR. Gz
Folder structure: Download
---
F9 (old – Beginning of 2020)
If the download should not start – right mouse button and select "Save as…"
Map EU Common: http://ivsu.binaries.ford.com/swparts/1 … 000.TAR. G
Map EU ext: http://ivsu.binaries.ford.com/swparts/1 … 000.TAR. G
Map EU North UK: http://ivsu.binaries.ford.com/swparts/1 … 000.TAR. G
Map EU Iberia: http://ivsu.binaries.ford.com/swparts/1 … 000.TAR. G
Map EU France: http://ivsu.binaries.ford.com/swparts/1 … 000.TAR. G
Map EU Central: http://ivsu.binaries.ford.com/swparts/1 … 000.TAR. G
Map EU South: http://ivsu.binaries.ford.com/swparts/1 … 000.TAR. G
Map EU East: http://ivsu.binaries.ford.com/swparts/1 … 000.TAR. G
Map EU Cyprus: http://ivsu.binaries.ford.com/swparts/1 … 000.TAR. GZ
License: http://ivsu.binaries.ford.com/swparts/1 … 000.TAR. Gz
Folder Structure: Download for SYNC 3.4 Built 19200
Folder Structure: Download for SYNC 3.4 Built 20021
---
F9 (new – September 2020)
If the download should not start – right mouse button and select "Save as…"
Map EU Common: https://givisivsustorageprod.blob.core.windows.net/swparts/1U5T-14G421-BAG_1591726015000.TAR.GZ
Map EU ext: https://givisivsustorageprod.blob.core.windows.net/swparts/1U5T-14G421-BBG_1591726765000.TAR.GZ
Map EU North UK: https://givisivsustorageprod.blob.core.windows.net/swparts/1U5T-14G421-BCG_1591726913000.TAR.GZ
Map EU Iberia: https://givisivsustorageprod.blob.core.windows.net/swparts/1U5T-14G421-BDG_1591727234000.TAR.GZ
Map EU France: https://givisivsustorageprod.blob.core.windows.net/swparts/1U5T-14G421-BEG_1591727457000.TAR.GZ
Map EU Central: https://givisivsustorageprod.blob.core.windows.net/swparts/1U5T-14G421-BFG_1591727753000.TAR.GZ
Map EU South: https://givisivsustorageprod.blob.core.windows.net/swparts/1U5T-14G421-BGG_1591728190000.TAR.GZ
Map EU East: https://givisivsustorageprod.blob.core.windows.net/swparts/1U5T-14G421-BHG_1591728542000.TAR.GZ
Lizenz: https://givisivsustorageprod.blob.core.windows.net/swparts/1U5T-14G424-BJ_1591719092000.TAR.GZ
Folder Structure: Download
---
F10 (February 2021)
If the download should not start – right mouse button and select "Save as…"
Map EU Common: https://ivsubinaries.azureedge.net/swparts/1U5T-14G421-BAH_1615430310000.TAR.GZ
Map EU ext: https://ivsubinaries.azureedge.net/swparts/1U5T-14G421-BBH_1615430406000.TAR.GZ
Map EU North UK: https://ivsubinaries.azureedge.net/swparts/1U5T-14G421-BCH_1615430471000.TAR.GZ
Map EU Iberia: https://ivsubinaries.azureedge.net/swparts/1U5T-14G421-BDH_1615430533000.TAR.GZ
Map EU France: https://ivsubinaries.azureedge.net/swparts/1U5T-14G421-BEH_1615430614000.TAR.GZ
Map EU Central: https://ivsubinaries.azureedge.net/swparts/1U5T-14G421-BFH_1615432204000.TAR.GZ
Map EU South: https://ivsubinaries.azureedge.net/swparts/1U5T-14G421-BGH_1615430797000.TAR.GZ
Map EU East: https://ivsubinaries.azureedge.net/swparts/1U5T-14G421-BHH_1615430859000.TAR.GZ
Map EU Cyprus: https://ivsubinaries.azureedge.net/swparts/1U5T-14G421-BJH_1615431074000.TAR.GZ
Lizenz: https://ivsu.binaries.ford.com/swparts/1U5T-14G424-BK_1616682400000.TAR.GZ
Folder Structure: Download
If you have any issues after upgrading to F10, install the new Voice Files
https://ivsubinaries.azureedge.net/swparts/4U5T-14G422-BAF_1615431156000.TAR.GZ
https://ivsu.binaries.ford.com/swparts/5U5T-14G391-AN_1615393794000.TAR.GZ
Folder Structure: Download
F10 (February 2021) – official update package
https://ivsu.binaries.ford.com/owner-package/18547629847/Map_23667292793_Update.zip
---
F11 (May 2022) <— I´m using this Version
If the download should not start – right mouse button and select "Save as…"
Map EU Common: http://ivsubinaries.azureedge.net/swparts/1U5T-14G421-BAJ_1644010894000.TAR.GZ
Map EU ext: http://ivsubinaries.azureedge.net/swparts/1U5T-14G421-BBJ_1644008981000.TAR.GZ
Map EU North UK: http://ivsubinaries.azureedge.net/swparts/1U5T-14G421-BCJ_1644009116000.TAR.GZ
Map EU Iberia: http://ivsubinaries.azureedge.net/swparts/1U5T-14G421-BDJ_1644009729000.TAR.GZ
Map EU France: http://ivsubinaries.azureedge.net/swparts/1U5T-14G421-BEJ_1644010041000.TAR.GZ
Map EU Central: http://ivsubinaries.azureedge.net/swparts/1U5T-14G421-BFJ_1644010644000.TAR.GZ
Map EU South: http://ivsubinaries.azureedge.net/swparts/1U5T-14G421-BGJ_1644011311000.TAR.GZ
Map EU East: http://ivsubinaries.azureedge.net/swparts/1U5T-14G421-BHJ_1644011371000.TAR.GZ
Map EU Cyprus: http://ivsubinaries.azureedge.net/swparts/1U5T-14G421-BJJ_1644011473000.TAR.GZ
Lizenz: http://ivsubinaries.azureedge.net/swparts/1U5T-14G424-BL_1646159765000.TAR.GZ
Folder structure: Download
New Voice Files (required for F11)
http://ivsubinaries.azureedge.net/swparts/4U5T-14G422-BAG_1644245686000.TAR.GZ
https://ivsu.binaries.ford.com/swparts/5U5T-14G391-AS_1644006548000.TAR.GZ
Folder structure: Download
F11 (May 2022) – official update package
https://ivsu.binaries.ford.com/owner-package/14435867133/Map_15303840503_Update.zip
---